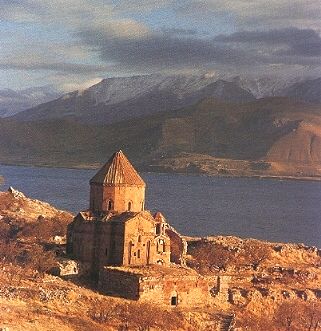 Akdamar island in Lake Van

Famous Van Cat


Muradiye Waterfalls


Urartu Hieroglyphics


Van, the ancient Urartian capital of Tuspa, tempts visitors toits location on the eastern shore of the lake. This remote but important city is set in a verdant oasis at the foot of a rocky peak. An imposing 9th-century B.C. citadel overlooks the new andthe old parts of the town. Steps carved in the rock lead to the Urartian fortress; halfway up, inscriptions in cuneiform pay homage to Xerxes. Within the fortress are several Urartian royal rock tombs. In the old city, the Ulu Mosque, Husrev Pasha Mosque, Kaya Celebi Mosque, and the Ikiz Kumbets reflect Seljuk and Ottoman architectural styles. Van's interesting Archaeological Museum is in the new city, inland from the uninhabited old district. Still very much part of a traditional lifestyle, the women of Van produce beautiful kilims woven in blue, red and white patterns. The exotic Van cat, a protected animal, has thick white fur andone blue and one green eye.

At Van Iskelesi (Van Harbor), friendly tea gardens and restaurants invite you for a break. Edremit, a holiday resort center 14 kmto the southwest, has good beaches, swimming and camping places. In the same direction is Gevas, where you can visit a Seljuk cemetery with many decorated headstones and the lovely Halime Hatun Mausoleum.

Lake Van, the largest lake in Turkey and at an altitude of 1720 meters, is ringed by beautiful mountains: Mount Suphan (4058 meters) on the northwest side and the Ihtiyar Sahap Mountainst o the south. You can circle the lake, visiting several ancient Urartian sites as well as others that represent the legacy ofthe various peoples who have inhabited the area. Some of the Islands in Lake Van have monasteries and churches built on them; no doubt the remote location offered seclusion to the resident religious communities. Forty-one kilometers southwest of Van, Akdamar Island ( a half-hour sail from shore) is the most important of these. On the island stands the 10th- century Church of the Holy Cross, now a museum, whose stone outer walls are richly carved with Old Testaments cenes and figures. After sight seeing, swimmers and picnickers can enjoy themselves around the Island's almond groves. If you have time, visit Carpanak Island to enjoy its landscape and towander around the 12th-century church, which has now been convertedinto a museum.
Cavustepe, 35 km from Van on the Hakkari road, is an important Urartian citadel. Excavated in 1970, today you can see temples, a palace, a sacrificial altar and inscriptions. On the pastoral, winding road to Hakkari, the Zernek Dam Lake offers itself asa resting spot on the way to Hosap, 60 km from Van, where a 17thcentury rises abovea small hill. Although the inside is badly damaged, the exterior walls, crenellations and turrets are well preserved.

Among the interesting geographical features around Lake Van, the Muradiye Waterfalls, 88 km north of Van, with a peaceful tea garden and restaurants, and Gahnispi-Beyaz Cesme Falls, 60 km south of Van, are worth visiting.

The road to remote Hakkari, 203 km southeast of Van, takes you through some of Turkey's most magnificent scenery: the Cilo_Sat Mountains and the Zap Valley. A medieval fortress dominates the city, which is at an altitudeof 1700 meters.

| | |
| --- | --- |
| Reliefs, Akdamar Island Museum | Mt. Cudi |


Lochal Kilim