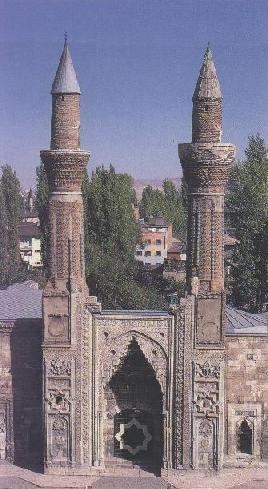 Sivas, an important commercial center stood, during the Middle Ages, at the junction of the caravan routes to Persia and Baghdad.Between 1142 and 1171, it was the capital of the Danismend Emirs and a vitally important urban center during Seijuk rule. The remaining architectural monuments reflect Sivas's former prominent position. The Ulu Mosque dates from the Danismend Emirate, but the Seljuk buildings:the 13th century Izzeddin Keykavus Sifahanesi - a hospital and a medical school, the beautifully decorated Gok Medrese, the twin minarets of the Cifte Minare Medrese as well as the Buruciye Medrese all testify to the exciting aesthetic of the Seljuk period.

In 1919, the decision to liberate Turkey from the occupying foreign powers was made by the National Congress which had convened in Sivas. Today, the 19th century building where the congress was held has been restored as the Ataturk and Congress Museum, with a display about the War of Independence as well as an ethnography exhibit. In the Buruciye Medrese, the Museum of Archaeology and Stoneworks displays finds from local digs and Islamic tombstones with reliefs. The 19th century Akaylar Mansion House Museum is now an ethnography museum.In town, there are excellent Sivas carpets for sale; the city has long had a reputation for fine weaving. And in Sivrialan Village, the Asik Veysel Museum commemorates the famous Turkish poet (1884-1973) who was born here and who lived and died here.
Kangal, 68 km south of Sivas, is the home of Turkey's most famous breed of dog - the Kangal ("dog of the Galatians", 3rd century B.C). Used as sheep dogs, these golden-haired animals have also proven themselves in police and security work.Twelve kilometers northeast of Kangal is the famous spa, Balikli Kaplica. The 36-degree Celsius waters contain bicarbonate, calcium, and magnesium, and spring from the earth accompanied by scores of tiny fish that are said to aid in the cure of skin complaints. In Sivas province are the famous spas Sicak Cermik (warm spas) and Soguk Cermik (cold spas).