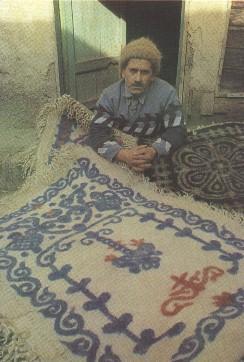 Regional Goat-Hair Embroidery
Siirt was an especially eminent city at the time of tne Abbasid Caliphate. Among the city's monuments, be sure to visit the 12th century Seljuk Ulu Mosque and the 13th century Asakir Carsi Mosque. At Aydinlar, only 6 km from Siirt, the ibranim Hakki Mausoleum Complex and nearby private ibrahim Hakki Astronomical Museum are worthy of close examination. Siirt produces fine and large pistachio nuts and is known as well for its excellent goat-hair blankets and kilims.

Sirnak, on the north face of Mount Cudi (2114 meters)derives its name from the Moslem belief that Noah's Ark lended an this holy mountain: Sir-City, Nak-Noah. Fortyfive kilometers from Sirnak, Cizre is the supposed location of his tomb.