Altinkaya, Manavgat and Side

View of Apollo Temple, Side Harbor
An important city of ancient Pisdia, Altinkaya (Selge), northwest of the Koprulu Canyon National Park, is reached by a winding mountain road. The city walls, towers, cisterns, temple to Zeus, agora, stadium, theater, gymnaslum and necropolis remain from this commercial city that stood at an elevation of 950 meters. Historians verify that Selge had direct trade with Antalya, which brought it prosperity.

Although the Manavgat Waterfalls are not high, milky white, foaming water rushes powerfully over the rocks. Next to the waterfalls shady tea gardens and restaurants make the falls a pleasant, cool resting spot, especially welcome after a day of sightseeing. You can take a delightful boat trip up the Manavgat river to explore this lovely area further.

Side, one of the best-known classical sites in Turkey, was an ancient harbor whose name meant pomegranate. Today a pretty resort town, its ancient ruins, two sandy beaches, many shops and extensive tourist accommodation attract throngs of visitors. There are numerous cafes and restaurants with a view of the sea, and the shops that line the narrow streets seli typical Turkish handicrafts including leather goods and Turkey's famous beautiful gold jewelery. Tne magnificent theater of the ancient city, built on colonnaded arches, is the largest in tne wncle area. (Closed for restoration) Other monuments include the agora, the Apollo Temple. whicn is situated near the sea. a fountain and necropolis. The extensive Roman baths. now a museum. houses one of Turkey's finest archaelogical collections.
East of Side, tucked in pine forests the holiday resorts of Sorgun, Titreyen Gol (Blue Flag) and Kizilagac are both popular for their sandy beaches and sparkling sea. The atmosphere is relaxed, the accommadation plentiful and the activities endless.

West of Side, the holiday centers of Kumkoy, Colakli and Kamelya also offer sun and sea, in close proximity to ancient sites. In the Pamphlyian Seleucia (Bucaksihlar), 15km northeast of Side, are the remains (in good condition) of Roman baths, temples, churches, a mausoleum, theatre and agora.

Ancient Side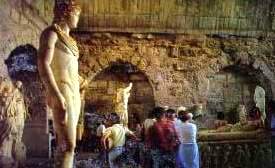 Side Archaelogy Museum



This site prepared by Tayfun Kalyoncu on 28.02.1997 and last updated on 01.05.1999.
For any comments and suggestion please send an e-mail using the form at page mailform.html
---