Oludeniz and Saklikent

Saklikent
The road to Belcegiz Bay takes you through the mountains where cozy guest houses cater to those seeking mountain scenery. Ocakkoy is the mountain village that is a must see, stay in one of the lovely guest houses, and enjoy the numerous trekking possibilities. Hisaronu, also in the mountains, has very nice hotels. 4 km from Hisaronu, Kayakoy is a picturesque ghost town of old houses and churches all empty. Explore the bay and the beautiful Blue Lagoon, Olu Deniz, where the calm, crystal clear water is ideal for swimming and other water sports. The Blue Lagoon is one of the best places in the world to do absolutely nothing except soak up the sun amid stunning natural surroundings. At Mt.Baba(1,969 m), you can paraglide into the Blue Lagoon. For those who prefer accomodation facilities, Belcegiz beach is recommended.

Intoxicating scenery surrounds Kidirak's beach and shady park. On Gemiler Island (St. Nicholas's Island), Byzantine ruins lie tucked among the pines. South of Kidirak beach, Koturumsu Bay is reachable only by boat. Beyond the idyllic beach, a forest, waterfalls and a valley (kelebekler vadisi means Butterly valley) filled with hundreds of varieties of butterflies await the explorer. High in the mountains above Fethiye a rushing torrents cuts a narrow gorge through the mountains, creating Saklikent (Hidden City).
| | |
| --- | --- |
| Entrance of Butterfly Valley | A cool refuge on hot summer days, Saklikent is a favorite picnic spot, with rustic restaurants serving delectable fresh trout. 36 km south of Fethiye, Yakakoy (Tlos) is the oldest city in the Lycian region. The home of the Lycian Hero Bellerophon, visitors can see the remains of a castle, agora, necropolis, theatre,Roman baths and a good view of Esen Valley. 2 km east of the villages is Tlos Park, ideal for picknicking. |
| Pinara, 49 km south of Fethiye, is another ancient mountain city; it is ideal for trekking and visitors can see the remains of a theatre, agora, rock tomb, baths and ancient brothels. | Entrance of Butterfly Valley |
About 65 km from Fethiye,to the southeast, near Kinik,are the ruins of Xanthos, an important Lycian capital in a splendid natural setting. Letoon, nearby was formerly an important religious cult center where three temples dedicated to leto, Artemis and Apollo stood in ancient times.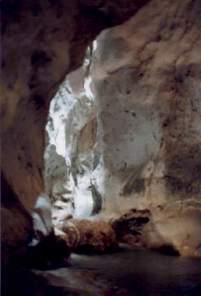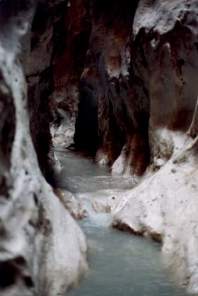 Some interior views of Saklikent



This site prepared by Tayfun Kalyoncu on 28.02.1997 and last updated on 01.05.1999.
For any comments and suggestion please send an e-mail using the form at page mailform.html
---