The Archeological Museum, near Konak Square, houses a superb collection of antiquities including the statues of Poseidon and Demeter which, in ancient times, stood in the Agora (Closed on Mondays).

Next to the Archeology Museum, the Ethnography Museum contains folkloric artifacts, which include a fine collection of Bergama and Gordes carpets, traditional costumes and camel bridles (Closed on Mondays).

The Ataturk Museum is situated on Ataturk Caddesi in an old Izmir house used by the founder of the Turkish Republic. It exhibits photographs of the leader as well as some of his personal effects. (Closed on Mondays).

The Fine Arts Museum, located in Konak, displays the works of famous Turkish painters (Closed on Mondays).

The Selcuk Yasar Art Museum is a private museum on Cumhuriyet Bulvari with a collection of 20th-century Turkish art (Closed on Sundays).

The Natural History Museum in Bornova acts as a natural reserve of the Aegean Region landscapes' historical preservation (Closed on Sundays).

The Odemis Archaeological Museum is about 60 km east of Izmir and displays regional artifacts (Closed on weekends).

The Tire Archaeological Museum is about 50 km east of Izmir (Closed on weekends).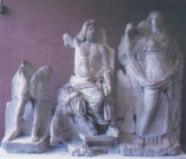 Poseidon and Demeter
Izmir Archaeology Museum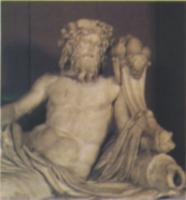 River god, Kaistos
Izmir Archaeology Museum