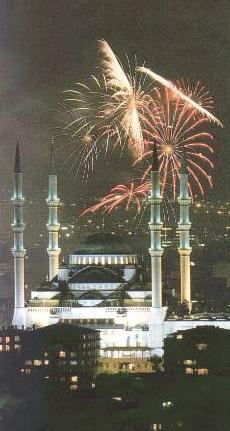 Kocatepe Mosque
Haci Bayram Mosque: This mosque, in Ulus,next to the Temple of Augustus, was built in the early 15th century and subsequently restored by Sinan in the 16th century, with Kutahya tiles added in the 18th century. The mosque was built in honor of Haci Bayram Veil, whose tomb is next to the mosque.

Aslanhane Mosque: This mosque, near the citadel, was built in the 13th century. The mosque has a mihrap (prayer niche) of Seljuk tiles, and,unusually, a double colonnade of wooden columns. Next to the mosque is the tomb of Ahi Serafeddin.

Ahi Elvan Mosque: Found in the Ulus quarter near the Citadel this mosque was built and finished during the late 14th and early 15th centuries. The finely carved walnut mimber (pulpit) is of particular interest.

Alaaddin Mosque: This mosque is inside the Citadel walls. It has a carved walnut mimber, the inscription on which records that the mosque was built in the 12th century by the Seljuk ruler, Mesut.

Yeni (Cenab Ahmet) Mosque: This is the argest Ottoman mosque in Ankara and was built by the famous architect Sinan in the 16th century.The mimber (pulpit) and mihrap (prayer niche) are of white marble, and the mosque itself is of Ankara stone (red porphyry), an example of very fine workmanship. Yeni Cami is on Ulucanlar Avenue.

Kocatepe Mosque: This is a recently constructed mosque of great size in classical Ottoman design with four minarets. Built between 1967 and 1987 in the Kocatepe quarter, its size and prominent situation have made it something of a landmark.