Istanbul, Monuments

The ancient Hippodrome, the scene of chariot races and the center of Byzantine civic life, stood in the open space in front of the Blue Mosque, an area now called Sultanahmet. Of the monuments which once decorated it only three remain: the Obelisk of Theodosius, the bronze Serpentine Column and the Column of Constantine. Remains from the curved end section of the Hippodrome's wall can be seen on the south side of these three monuments. Today the square forms the center of Istanbul's historical, cultural and touristic activities. You should take particular note of the surrounding wooden houses, particularly the 18th century ones on Sogukcesme Street. Delighttully restored, they have new life as small hotels; one houses a fascinating library of books on Istanbul.

The Ahmet Ill Fountain, built in 1729, stands at the entrance to Topkapi Palace. Deep overhanging eaves shade the water spouts where the parched could stop for a cup of refresning water. This highly ornate, free-standing fountain is a superb example of the late Ottoman style.

Mahmut II built the Beyazit Tower (85 meters high) in 1828 as a fire tower. Today it stands within the grounds of Istanbul University.
The Bozdogan-Valens Aqueduct, built in 368 A.D., supplied the Byzantine and later the Ottoman palaces with water. Today part of the remaining 900 meters of double-tiered arches straddle the major highway that runs through the old part of town.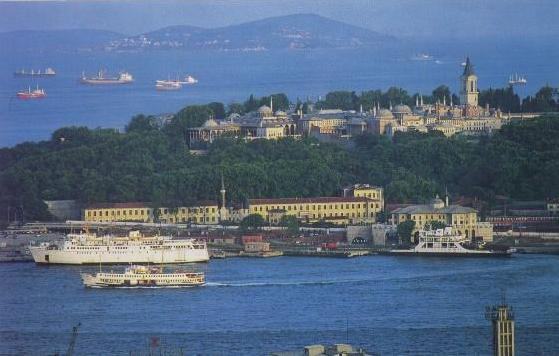 The Istanbul land walls, once an impenetrable fortification, stretch seven kilometers from the Sea of Marmara to the Golden Horn Restored recently, and many times previously, these walls date from the fifth century and the reign of Emperor Theodosius II. UNESCO has declared the land walls, and the area which they enclose, one of the cultural heritages of the world.
The Galata Tower, a Genoese construction of 1348, rises 62 meters high over the Golden Horn. From the top you see a marvelous panorama of the Golden Horn and the Bosphorus. In the evening tourists enjoy its popular restaurant, night club and bar.
Rumeli Hisari, or the European Fortress, was built by Mehmet the Conqueror in 1452 prior to his capture of Istanbul. Completed in only four months, it is one of the most beautiful works of military architecture in the world. (Open every day except Mondays.)

Known as Leander's Tower, Kiz Kulesi is one of the romantic symbols of Istanbul. First constructed in the 12th century on a tiny island at the entrance to Istanbul's harbor, the present building dates from the 18th century.



This site prepared by Tayfun Kalyoncu on 28.02.1997 and last updated on 01.05.1999.
For any comments and suggestion please send an e-mail using the form at page mailform.html
---