Nevsehir, a provincial capital, is the gateway to Cappadocia. In the town itself, the hilltop Seljuk castle, perched on the highest point in the city, and the Kursunlu Mosque, built for the Grand Vizier Damat Ibrahim Pasha, are among the remaining historical buildings. The mosque forms part of a complex of buildings which includes a medrese, a hospice and a library. An ablution fountain in the courtyard still bears its original inscription. The Nevsehir Museum displays local artifacts.
Violent eruptions of the volcanoes Mt. Erciyes (3,916 meters) and Mt. Hasan (3,268 meters) three million years ago, covered the plateau surrounding Nevsehir with tufa, a soft stone comprised of lava, ash and mud. The wind and rain have eroded this brittle rock and created a spectacular surrealist landscape of rock cones, capped pinnacles and fretted ravines, in colors that range from warm reds and golds to cool greens and greys.Goreme National Park, known in Roman times as Cappadocia, is one of those rare regions in the world where the works of man blend unobtrusively into the natural surroundings.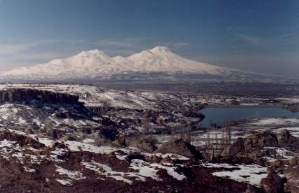 Dwellings have bee hewn from the rocks as far back as 4,000 B.C. During Byzantine times, chapels and monasteries were hollowed out of the rock their ochre-toned frescoes reflecting the hues of the surrounding landscape. Even today troglodyte dwellings in roc cones and village houses of volcanic tufa merge harmoniously into the landscape.