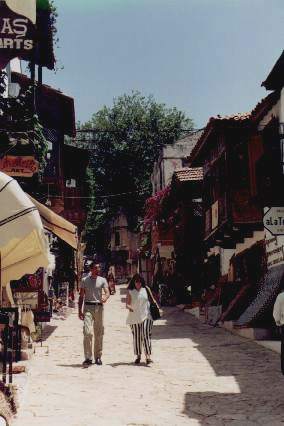 Shopping in Kas
Continuing west out of Kekova, you come to Kas, a lovely spot surrounded on three sides by mountains. The friendly local fishermen are happy to run a water taxi service to take you to a favorite bay, cove or beach along the coast. The swimming and diving are excellent in the clear cool water around Kas.

Of ancient Antiphellos,as Kas was once known, only the Lycian rock cut tombs and sarcophagi are left. But the charm of the town remains, and it is a pleasure to wander through the streets, stopping to examine souvenir shops that offer Turkish handicrafts, leather goods, copper and silver items, cotton clothing and the inevitable handmade carpet.

After shopping stroll along the flower-lined Akdeniz Promenade or relax under the shade of a palm tree. Kas's bars and restaurants offer plenty of night life. The mountains that surround the town provide their share of activities and sights. You can walk through forested hills to visit remote villages and ancient ruins. The energetic may want to attempt the highest peak in the area, Mt. Kizlar Sivrisi(3,086 meters), or the second highest, Mt. Akdag(3,030 meters). Along the scenic Kalkan road, Kapitas has a beautiful beach, at one end of which is the Turquoise Grotto.