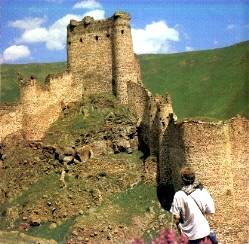 Devils Castel, Cildir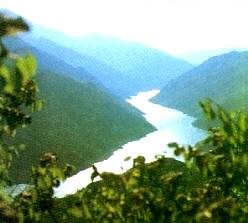 Firat (Euphrates)
Kars, standing at an altitude of 1750 meters, has played an importantrole in Turkish history and was at the center of the Turkish-Russian War. The Russian legacycan still be seen in much of the Town's architecture. The lower city unfolds at the foot of an impressive Seljuk fortress of the 12th century. Nearby, the Havariler Museum (the 10th-century Church of the Apostles) reveals a curious mixtureof architectual influences. Bas-reliefs representing the twelveapostles in rather stiff and awkward poses, ring the exteriordrum of the dome. The Archaeological Museum houses beautiful wood-carvings, an excellent collection of coins found in the surrounding region, as well as many ethnographic items relating to eastern Turkey. Kars is particularly known for its distinctive kilims and carpets,and it retains a strong heritage of folk dancing. Visitors alwaysseem to enjoy this traditional entertainment. On the mountain pastures, villagers produce excellent Kasar cheese and delicious honey.

Forty-two kilometers east of the city on the ancient Silk Road, the medieval city of Ani (Ocakli) lies mostly in ruins. Impressive fortified walls still encircle the ruins of numerous churches, mosques and caravanserais. Sarikamis (53 km southwest of Kars) is a ski center with resort hotels, setin a scenic pine forest.

The Kur river divides Ardahan and separates the ancient parton one side and the new city on the other. A 16th - century castlebuilt by Sultan Selim the Grim, one of the most stately citadels in Turkey with 14 towers and a span of 745 meters, stands in the old part of the city.

Cildir takes its name from the nearby lake which lies at an altitude of 1965 meters. The scenic area around the lake provides a habitat for a fascinating variety of birds. In the lake, the man-made Akcakale Island was reputedly constructed with the labor of thousands; a temple with Urartian inscriptions remains. Seytan Kalesi (Devil's Castle) is near Cildir.

The city of Igdir stands on a large, fertile plain on which fruit and, unusually for this geographical region, cotton grow. The Bible relates that when the flood waters receded, Noah andhis family descended from Mount Agri (Ararat) toward the fertile Igdir plain. From here, their progeny settled tothe south and west along the Firat (Euphrates) and Dicle (Tigris) rivers, establishing the second generation of mankind. From this plain, you have the best view of Mount Agri. Monuments to visit near the city include Urartian rock monuments, a 13th - century Seljuk Caravanserai and the Karakale (Black Castle). In Karakoyun village, on the road between Igdir and Aralik, you should stop at the impressive 15th-century cemeteries with Karakoyun (ram and ewe) monumental tombstones.