Istanbul and Marmara Region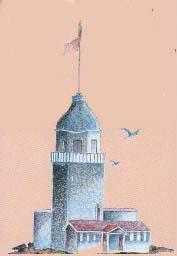 Istanbul embraces two continents, one arm reaching out to Asia the other to Europe. In the city's heart, the Bosphorus strait, course the waters of the Black Sea, the Sea of Marmara and the Golden Horn. The former capital of three successive empires- Roman Byzantine and Ottoman-today istanbul honors and preserves the legacy of its past while loking forward to its modern future.




Indeed it is Istanbul's variety that fascinates its visitors. The museus, 5 churches, places, great mosques, bazaars and sights of natural beautiy seem inexhoustible. As you recline on the shores of the Bosphorus at sunset contemplating the red evening light reflected in the windows on the opposite shore you understand, suddenly and profoundly, why so many centuries ago settlers chose to bulid on this remarkable site. At times such as these you feel that istanbul is truly one of the most glorious cities in the world.



This site prepared by Tayfun Kalyoncu on 28.02.1997 and last updated on 01.05.1999.
For any comments and suggestion please send an e-mail using the form at page mailform.html
---