Ephesus
Click on to links below to wiev some additional photos about Ephesus.



Celsus Library, Ephesus



A visit to Efes (Ephesus) - once the commercial center of the ancient world - is a highlight of any visit to Turkey. The city, whose wealth and patronage supported its splendid architectural program, was dedicated to the goddess Artemis. Her enormous temple, once considered one of the Seven Wonders of the Ancient World and rebuilt several times, dates in its latest form from the third century B.C.

The ruins also include a theater, gymnasium, agora and baths, as well as the Library of Celsus, The nearby town of Selcuk is dominated by a Byzantine citadel which stands close to the 6th century basilica of St. John built on the site of the Apostle's tomb. The 14th century Isa Bey Mosque, next to the basilica is accessed through its typical Seljuk portal. The Archaeological Museum houses an impressive collection of statues and other finds recovered during the excavations of Ephesus. The nearby Turkish Bath Museum, built in the 16th century, shows Turkish life at the hamam (bath). The Ephesus International Festival is held annually in May.
| | |
| --- | --- |
| It is recorded that St. John brought the Virgin Mary to Ephesus after the death of Christ and that she spent her last days in a small house (Meryemana Evi) built for her on Bulbuldagi (Mt. Koressos). Now a popular place of pilgrimage for Christians and Muslims the house has received the official sanction of the Vatican,and Christians observe a commemoration ceremony every year on August 15th. | Interior, Virgin Mary's House |
Near Selcuk in Camlik is a TCDD Open-air Steam Locomotives Museum. 9 km east of Selcuk is Sirince, known for its traditional 19th-century village houses, some of which have been converted into guest-houses.Wine is produced in this small hillside Turkish village,which itself resembles an open-air museum. 18 km from Selcuk are wine-houses, for tasting the wines.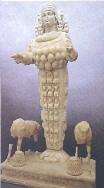 Arthemis, Ephesus



This site prepared by Tayfun Kalyoncu on 28.02.1997 and last updated on 01.05.1999.
For any comments and suggestion please send an e-mail using the form at page mailform.html
---