On the Black Sea, 70 km from Uskudar, Sile's sandy beaches, fish restaurants and hotels make it one of the most delightful holiday places near Istanbul. Sile bezi, cool cotton clothing, popular with tourists, is fashioned here.

The charming fishing town of Eskihisar, southeast of Istanbul,boasts a marina where yachtsmen can moor their boats after a day out in the Sea of Marmara. In town, the house of Osman Hamdi Bey, Turkey's great 19th century painter, has been converted into a museum. Neighboring sites include the tomb of Hannibal between Eskihisar and Gebze, and a Byzantine castle.

On the southern shore of tne Sea of Marmara, the popular resort of Yalova has been visited since Roman times for its thermal waters which aid in the cure of rheumatism. The baths of the main resort a few Kilometers out of town are set in pleasant gardens adding to the relaxing atmosphere. In the town of Yalova itself, many inexpensive hotels and guest houses provide comfortable accommodation. Seventeen Kilometers west of Yalova, the relaxing resort area of Cinarcik has lovely beaches and modern holiday complexes.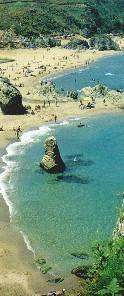 Sile Beach