The Toros (Taurus) Mountains which parallel Turkey's southernborder, and the Black Sea Mountains in the north join together to form a mighty mountain range which defines the country'seasternborder. The tremendous diversity of the eastern and Southeasternlands surprises travellers : the red-ochre plateau of Erzurum;the forests, waterfalls, and green pastures of Kars and Agri; the permanent snow-cap on biblical Mount Agri (Ararat) ;the vast Lake Van with its deep blue waters. Dwellings and modes of life also vary greatly in this large region. Small, earth-roofedhouses, built close to the ground typify houses around Kars. Despitea generally austere life, the people of the area are generousand hospitable.

The region's long and turbulent history has left monuments toits various civilizations.: Byzantine monasteries and churches, Seljuk mausoleums and caravanserais, elegant Ottoman mosquesand hilltop citadels. To the inveterate travellerand lover ofadventure, this region of Turkey fascinates, astonishes and informs.

The national highway, the great trans-Anatolian axis road is, the most direct route between Ankara and Iranian border, and passes through Sivas, Erzincan, Erzurum, Agri, and Dogubeyazit.

The most direct route to this region is the Central Anatolian Highway that passes through Kayseri, Malatya, Elazig, Bingol, Mus, Van and on to Iran, via Hakkari.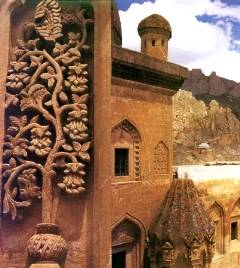 Ishak Pasa Palace