Datca and Knidos

Datca Marina
The Datca Peninsula provides a natural boundary between the Aegean Sea,the Gulf of Gokova to the north, and the Mediterranean Sea, the Gulf of Hisarnonu to the south. Along all the 75 km from Marmaris to Datca,the road winds among trees and hills, permitting lovely views over the expanse of blue. Campers have many perfect settings to choose from; the less adventurous can stay in one of the many comfortable holiday villages. 25 km to Datca is the beautiful Aktur beach. In Datca white-washed buldings hung with bougainvillaea decorate the town.
The marina is on the southern bay; while swimmers prefer the northern bay. Around the marina bars,cafes and a wide selection of shops keep the tourist interested.Some shops remain open well into the evening. Relaxing over a pre-dinner drink and then a delicious meal in a welcoming restaurant is a popular way to spend the evening hours.Of course, the local eateries offer both fresh fish and classical Turkish cuisine.

With any remaining energy,take a stroll and find a disco to your liking to while away until the early morning hours. 10 km north of Datca, the Kormen Harbor is connected to Bodrum by a daily ferry line.As you travel Out of Datca, either by road or by boat, you will find unspoilt bays and golden sandy beaches. Kargi is one of the most popular.




At the end of the peninsula (38 km from Datca) stands the ancient Carian city of Knidos, described by Strabo as "a city that was built for the most beautiful of goddesses,Aphrodite, on the most beautiful of peninsulas." Famous as a center of art and culture in the fourth century B.C. the city had two harbors: one on the Aegean and the other on the Mediterranean. The remains of a circular temple dedicated to the goddess of love overlook the two harbors; the arcaded way was built of white marble, heart shaped columns. The legendary Aphrodite of Praxiteles statue,one of the most beautiful sculptures of antiquity,once graced this temple.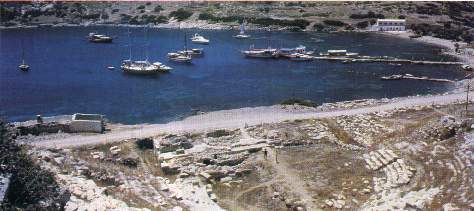 Knidos



This site prepared by Tayfun Kalyoncu on 28.02.1997 and last updated on 01.05.1999.
For any comments and suggestion please send an e-mail using the form at page mailform.html
---