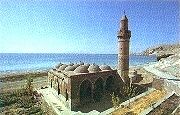 UluMosque, Adilcevaz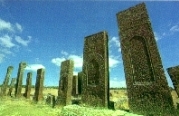 Ahlat, Bitlis
The lively city of Bitlis, an important center of tobacco production, stands in the middle of a green oasis. The city's architecture uses the local dark stone, and the masonry monuments include the Serefhan Medrese, the 12th-century Ulu Mosque, the Seljuk Gokmeydani Mosque, and the Ottoman Serefiye Mosque. Bitlis Ski center is close to the town's center. From Tatvan on the western shore of Lake Van, you can take a passenger and train ferry across thewater to Van. Nemrut Dagi (Mount Nemrut) makes a challenging climb. In its center a deep crater lake bubbles with volcanic hot springs.

The ruins of Ahlat, 44 km north of Tatvan on the west shore of Lake Van, once an important city of Turkish art and culture, are scattered today among more recent constructions. In the 12th century this city was the capital of the Turkish state that ruled the Van Basin. Several mausoleums, notably the Ulu Kumbet, the Bayindir Kumbet, the Hasan Pasha Kumbet and the Cifte Kumbets offer a comprehensive overview of Seljuk funerary architecture and decoration. In the Seljuk cemetry are beautifully inscribed monumental tombstones from the 12th century. The Turkish Art Museum houses a collection of ceramics, ancient coins and jewelry. Modern Ahlat provides lakeside tourist accomodation, beach facilities and restaurants.

As you drive around the lake you come to Adilcevaz, where the Ulu Mosque, built of the region's dark volcanic stone, stands on the lake shore. Ten kilometers west of Adilcevaz is Kef castle, and the nearby Urartian temple of Haldi dates from the ninth century B.C. Artifacts from this site can be seen in the Museum of Anatolian Civilizations in Ankara. The Adilcevaz High School garden displayssome of the column bases.