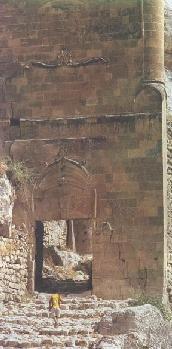 Entrance to Hasankeyf Castle
Batman is Turkey's most imponant oil-producing center. and oil wells.pumping the precious fuel dot the surrounning area. Nort of Batman, the Malabadi Bridge, built in 1147, spans the Batman River. Undisturbed by time, peaceful waters still reflect the widest single-arch bridge of its day. Two guard towers ensured the bridge's security

At Hasankeyf are the ruins of the 12th century capital of the Artukids. The bridge, which once spanned the Dicle and connected the two parts of the city and the ruined palace inside the citadel, evokes the ghosts of a vanished dynasty. The 15th century Zeynel Bey Mausoleum, attractively decorated with turquoise tiles, reveals Persian influences.