The highlight of Istanbul's cultural life is the annual International Arts and Culture Festival, in June and July. World-class artists - musicians,dancers,singers-perform in the city's various venues. The quality and wealth of the Festival is truly astonishing.

During the rest of the year the city offers a full program of opera, theater, ballet, films, concerts and exhibitions. The Cemal Resit Rey Hall and the Ataturk Cultural Center host a majority of these events.

Lighter entertainment thrives in this cosmopolitan city. Nightclubs with programs ranging from a selection of Turkish songs to the famous belly dancing will enthrall you. Modern discos, cabaret and jazz clubs in the Taksim-Harbiye district attract both the young and the old. In Sultanahmet a number of restaurants in restored Byzantine and Ottoman buildings serve traditional meals in their unique and evocative atmosphere.

Kumkapi, with its many taverns, bars, sidewalk restaurants and strolling minstrels, always offers a good meal and a superb show. In the same vein, the Cicek Pasaji in the Beyoglu district attracts a regular crowd of revellers.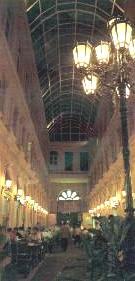 Cicek Pasaji