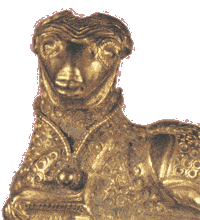 Parallels in precious metal are few. A gold recumbent lamb or ram (with head turned to the side) reportedly from Gökçeler Köyü , in the hill country north of Sardis, has dot-and-circle fleece like
no. 151 (Manisa Museum M.5289). Two electrum animals, one with a beaded base, in the Manisa Museum (nos. M.5279 and M.5241) are very similar to no. 155. A small solid electrum recumbent lamb which was perhaps part of an earring was recovered in the occupation quarter at Sardis where gold and silver were refined during the 6th century BC. A similar figure in
electrum or gold, and ivory figures of the same kind were found in the Artemision at Ephesos. Another parallel is a silver animal figure recovered from Tumulus B4 at Bayindir, which has a beaded base, a collar with a spherical pendant, and an attachment ring. Remarkably similar also is a silver ram in the Boston Museum of Fine Arts (1972.72; Otis Norcross Fund), which was
said to have been found in a tomb in the Hermos Valley along with other pieces of metalwork and metalworking equipment.
Also comparable is a silver ram from the
Velay Collection.