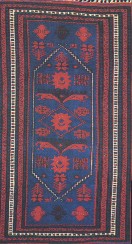 Yagcibedir carpets are produced in the mountainous areas of the Aegean regions, in the nomad inhabited villages of Mazilar, Islamlar, Karakecili, Yenikoy, Karaoba and Kocaoba (the oba ending means 'nomad tent"). According to the legend Yagcibedir was a butter seller from Kayseri who made excellent quality carpets to supplement his income. He shared his skills with the people of the villages he visited, so when they started to produce, they named their carpets after him. The warp, weft and knots are made of pure lambswool, and the pile is clipped short to allow the pattern to be clearly seen. The dominant colours are dark indigo blue and rich madder red, sometimes with the inclusion of cream, brown, softer shades of red and pinks. As the carpets age they become more and more lovely, as the dark reds fade to a beautiful softred-brown.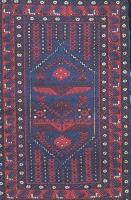 The colours and patterns of Yagcibedir carpets have remained the same for countless generations. They are very distinctive and easy to recognize. The dark blue ground is patterned with geometric forms: stars, flowers, stylized birds and numerous stars of Suleyman.

The field is framed by a border of five or seven bands. The double ended prayer niche, which indicates that the weavers were Shi-ite Moslems, is very distinctive with an edge of three stepped lines, ending in a ram's horn motif. These carpets are often the favorites of male carpet lovers, due to the masculine colours and simple geometric designs. The knots density in these carets are 160.000 per square meter.